Using the Panorama (xdt3) Desktop
The Desktop provides an easy way to manage a variety of tasks. You can use the Desktop to read and send mail, create and edit documents, and start different applications, such as spreadsheet and wordprocessing programs. And because many of your Desktop tasks are accomplished within windows (work areas that you open on the Desktop), you can switch from one task to another quickly. For example, suppose you have opened a window for reading your mail. You realize you deleted a document to which a mail message refers. Fortunately, you remember that you haven't emptied your Trash yet. Leaving your Mail window open, you can open a Trash window, restore the document and open it in another window, close the Trash window, and return to the Mail window.
---
NOTE: Users should log in with a non-root account to do their daily tasks. It is recommended that only system administrators log in as root on the Desktop.
---
In addition to working with windows, you'll want to become familiar with these concepts: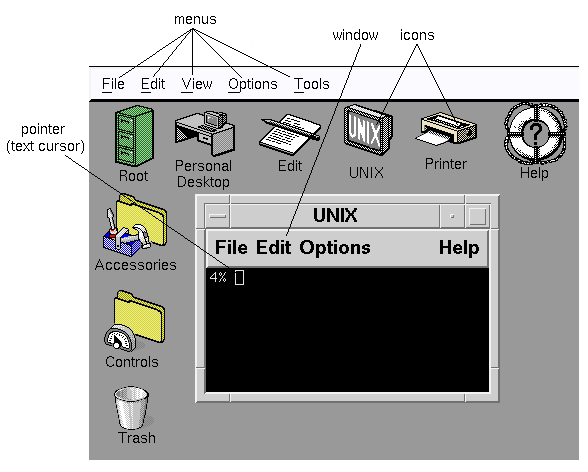 An Overview of the Desktop

Icons

are small pictures that represent programs, documents, data, or the containers (called directories) in which they are kept.


Menus

are lists of tasks you can do within a window or on the Desktop itself.


Pointer

shows you where you are on the screen. Depending on your current activity, it may change shape to let you know what you can do there.


Mouse

helps you move windows and icons around the Desktop and perform different tasks.
See also:
---
© 2005 The SCO Group, Inc. All rights reserved.
SCO OpenServer Release 6.0.0 -- 26 May 2005