The OSA builder
The OSA builder automates many of the tasks related to creating a SCOadmin OSA. For the purposes of the OSA builder, an OSA is divided into two files:
the class definition file, which contains class definition tables (CDTs) for each class that define how objects of that class behave

the execution procedure file, which contains procedures which carry out object requests.
---
NOTE: The OSA builder creates Tcl-based OSAs.
---
The OSA builder allows you to edit class definition files. Although it does not provide facilities for editing the execution procedure file, it will generate a file with procedure definitions (function stubs), which can act as a starting point for writing the needed procedures.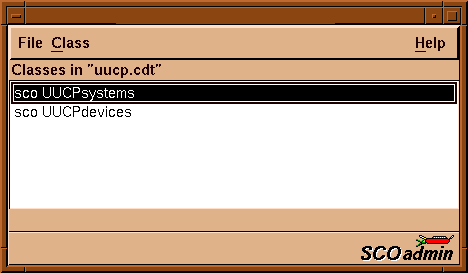 OSA Builder main screen
The File menu is used to open a class generate a procedure file, while the Class menu is used to create or modify a class definition.
---
Next topic: Example class
Previous topic: SCOadmin object classes

© 2005 The SCO Group, Inc. All rights reserved.
SCO OpenServer Release 6.0.0 -- 03 June 2005