About question dialogs
The Question dialog asks the user to confirm the killing of the process.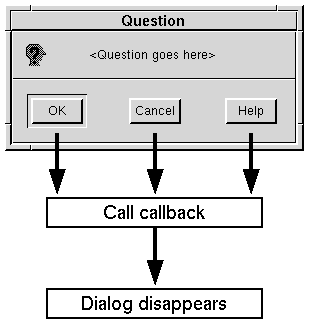 SCO Visual Tcl provides a number of pre-made dialogs, including the Question dialog in the example above.
Question dialogs display an icon that looks like a question mark, ``Question'' in the title bar, and three standard buttons at the bottom: OK, Cancel, and Help.
The question dialog used here contains only the OK and Cancel buttons.

---
© 2005 The SCO Group, Inc. All rights reserved.
SCO OpenServer Release 6.0.0 - 02 June 2005