Radio button
Source: Motif; CUA; Windows
Aliases: Command button; Option button
Related: Check box; Button; Tool bar
SCO Visual Tcl commands: VtRadioBox, VxRadioBox
A radio button is a screen object used for selecting an item from a small list of fixed, mutually exclusive options. A radio button is composed of a graphic that shows the selected item and a text or graphic label (Motif uses a diamond, Windows uses a circle).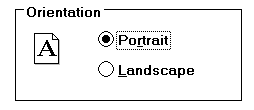 One item should always be selected (preferably the default choice). Selecting one radio button deselects another (or all the rest).

Used for selection, not for navigation or for invoking a command.

Use radio buttons when there are three or fewer choices. Use a single-selection list box when there are more than three choices.

Group radio buttons by surrounding them with blank space; use a group box only if necessary.
---
© 2005 The SCO Group, Inc. All rights reserved.
SCO OpenServer Release 6.0.0 - 02 June 2005