The Software Manager interface
---
NOTE: If you start the Software Manager and the License Manager one right after the other, the Software Manager menus may not respond. To work around this problem, re-invoke the Software Manager.
---
You can start the Software Manager in any of these ways:
Double-click on the Software Manager icon in the System Administration window on the Desktop.

Start the SCOadmin launcher by entering scoadmin on the command line, then select Software Manager.

Enter scoadmin software manager on the command line. (You can abbreviate this to scoadmin so.)
To run the Software Manager, you must have root or sysadmin authorization.

For more information on using SCOadmin managers, see ``Administering your system with SCOadmin''.

``The Software Manager'' shows the main window for the Software Manager and defines the symbols that mark the available software. (Most of the symbols are based on a picture of a CD-ROM.) The figure is missing one symbol: a broken disk, indicating that the software became corrupted during or after installation.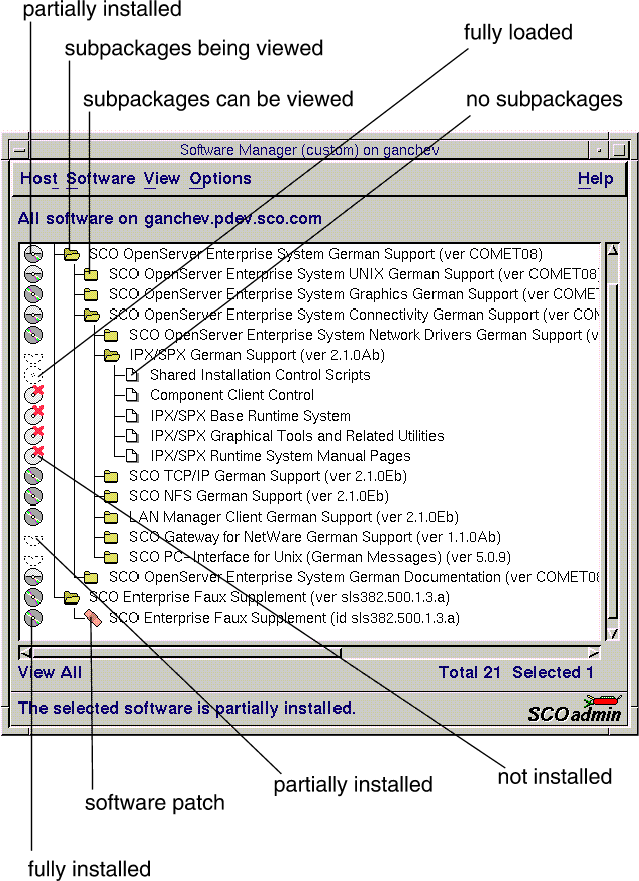 The Software Manager
---
Next topic: Installing software
Previous topic: Installing and managing software components

© 2005 The SCO Group, Inc. All rights reserved.
SCO OpenServer Release 6.0.0 -- 03 June 2005